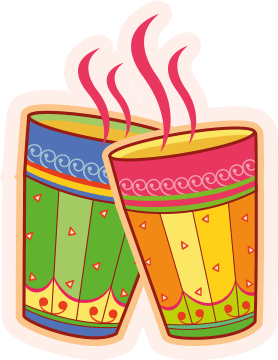 बात चाट और चाय
Chit Chaat and Chai
From the chaotic streets of Old Delhi to the bustling metropolis of Mumbai and on south to the glittering seashores of Kerala, we scoured the sub-continent to bring you the very best of India's street food.
Rooted in tradition, bursting with aromatic spices and brought to you with a contemporary twist, Chai Thali is a nation of street food all in one place.
Blending the old with the new, Chai Thali is all about India's traditional and modern street food cultures. Our authentic kerb-side snacks and sharing plates are delicious paired with a craft beer or one of our spice-infused signature cocktails. Read more
प्रशंसापत्र
What our guests say





Great Indian hospitality, food and ambiance for a perfect event
Vice President
Yash Raj Films





Amazing food. It'll really remind you of India. I love this place!
Anushka Arora
Broadcaster (BBC & Sunrise Radio)





One of London's best Indian restaurants. Riotously flavoursome
Resident Magazine Editors
The Resident Magazine
टेबल बुक करें
Book a Table at Chai Thali