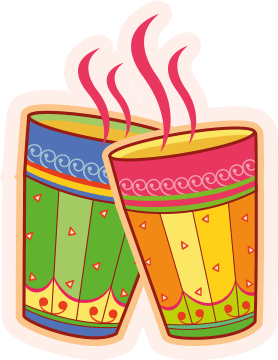 स्थान
Welcome to Chai Thali
CAMDEN
From the chaotic streets of Old Delhi to the bustling metropolis of Mumbai and on south to the glittering seashores of Kerala, we scoured the sub-continent to bring you the very best of India's street food.


19 Mandela Street, Camden, London, NW1 0DU
(Next to the famous Nelson Mandela street mural)


Open Monday To Sunday
12pm to 10:30pm


Mornington Crescent (6-7 min walk)
Camden Town (7-10 min walk)


Free parking Monday to Friday after 6.30pm and all day weekends on single yellow lines opposite the restaurant. Free parking on nearby pay & display bays parking after 6.30pm (free all day Sunday).
प्रशंसापत्र
What our guests say





Great Indian hospitality, food and ambiance for a perfect event
Vice President
Yash Raj Films





Amazing food. It'll really remind you of India. I love this place!
Anushka Arora
Broadcaster (BBC & Sunrise Radio)





One of London's best Indian restaurants. Riotously flavoursome
Resident Magazine Editors
The Resident Magazine
टेबल बुक करें
Book a Table at Chai Thali